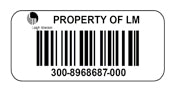 ---
Polyester based labels backed with a aggressive acrylic adhesive suitable for mild detergent wipe down and the occasion damp environment. Size : 25X10
These labels are suitable for internal use only, where the label is required to adhere on a variety of difficult surfaces or in applications where the occasional exposure to water and mild detergents is expected.
These high quality labels use a polyester base material with the image protected by an over-laminate and have an extra aggressive adhesive, featuring ultra high initial tack, long ageing, UV resistance and excellent holding properties.
Available in 2 sizes with the option to add logo.