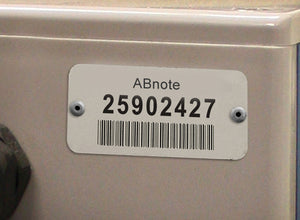 ---
ALUMINIUM Std 0.012'' / 0.3mm Gauge ASSET LABEL *Recommended for harsh industrial environments Size : 44X19
Used for indoor or outdoor applications where the label needs to be applied onto a flat surface. For long life and high readability metal bar code labels are made from quality anodised aluminium with resilience that outlasts conventional bar code labels. The image is crisp and clear, sealed beneath a sapphire hard anodic surface, which means exceptional durability under the most extreme environments. 
These labels;
Have a natural silver background making them highly visible and graphics to be easily read. 
Have a  high resistance to scuffing; impenetrable barrier to salt, dirt, chemicals and sunlight 
Can be affixed with extremely aggressive adhesive or mounting holes for mechanical attachments
Are able to withstand high temperatures to ensure they will last the life of your asset.
Are also available in various thicknesses, this option is recommended for mechanical fastening or when environmental conditions or stress demand greater material integrity
Depending on your specific requirement we can custom design a bar code label complete with colour, art, logo or other human readable information 
Black, sunfast gold and classic gold may be used outdoors.
Available in various sizes and durability options you can either order from the options